---
"Sounds like the rantings of a daydream believer."
--My English teacher, commenting on a Monkees parody of Swift's "A Modest Proposal" (written by me.)

---
Page updated: 4/16/03

The primary reason I don't update any more is that I just don't have anything new to give. I'm sorry. I've exhausted my creative ideas for this site, and while I do still write a little fanfic, most of it languishes away unfinished. My apologies to the friends of GCF. However, I'm not going to shut her down, not after all the work I have put into this. But I am shutting down the survey and I wouldn't expect any updates in the future, near or otherwise.


As it is, it seems that Monkeemania has died down yet again.


Vote for GCF in the Monkees Top 100! (Opens a new window)

http://committed.to/monkees can be used as a shortcut URL for this site.
Oh, and hey, sign the guestbook , dig? Or I'll send Micky to your house to do his werewolf impression.

---
RECENTLY UPDATED:
4/16/03- Results
9/30/02- DCA concert pics (MonkeeMania 2002)
9/30/02- Sightings
9/05/02- TV Show--Second Season
8/02/02- Gallery
7/31/02- Art : The Thunder Rumbling series and a picture of Micky
6/22/02- Dreams
6/06/02- TV Show--First Season
2/25/02- Pop Music: The Most? Or Just a Mess? , Articles

---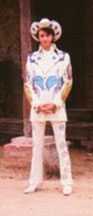 Mike: Like the suit? I picked it out myself.


Mike | Micky | Davy | Peter
The survey and/or interview repository, except for those I've already typed up and put elsewhere, like the Monkee-files.
What Kind of Girl Likes The Monkees?
If you like *insert name of fave here*, you are....
The Monkee-files
A groovy look into the minds of our fave foursome.
Vintage Monkee Rumors
Straight outta Monkees Spectacular, we bring you the rumor mills of 1968.
Monkee Art
7/31/02
Fan art, my fan art more specifically, and... well, *I* think it's pretty good.
***Survey***
Established June 2000, Closed as of April 2003
Results
4/16/02
Articles
2/25/02
Tru fax and fab pix from the media at large.
But mostly from Tiger Beat's Monkees Spectaculars.
Gallery
8/02/02
Photo-junkie heaven.
Writing Wrongs
1/08/02
My fanfic section, small as it may be.
Reviews
12/13/01
Concert, CD, etc.
Micky Concert Pictures
See Micky and Coco, as of 9/9/00
Peter Tork and the Shoe Suede Blues Concert Pictures
August 10th, 2001.
MonkeeMania 2002 Concert Pictures
August 23, 2002
Can You Dig It?
1/27/02
Crazy weird stuff.
TV Show - First Season (Quotes)
6/06/02
TV Show - Second Season (Quotes)
9/05/02
Quotes, commentary, bloopers, etc. from the TV show
TV Music Index
By song, an index of the songs that appeared in the original run of the TV show with episode, albums, and type (Romp, Video, Performance, etc..).
Random Monkee Thoughts
1/16/02
The things that go through my head... Be afraid.
Random Monkee Stuff
1/29/01
Strange little bits an' pieces, mostly bizarre little Monkee-related anecdotes.
Monkee Dreams
6/22/02
The name explains itself, doesn't it?
Monkee Sightings
9/30/02
Spotting the Monkees' influence on Pop culture.
The Perry Mason Connection
1/22/02
My Collection
All the things Monkees that I have spent my money on
Links
Note: I do not post dates when the links are updated, though I do frequently add new sites.
Awards
~*Guestbook*~
Nice people sign guestbooks.
Plus, if you put your own website's address, you might get more traffic.
(Hint, hint)

I removed the Open Letter that was here because, well, I think it's time has certainly passed.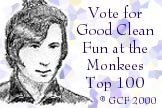 Vote for me at the Top 100!
(Groovy button, eh? Made it myself.)
Current Fave Song:
N/A

This site is (thankfully) MIDI-free.


Click to subscribe to SYMK!
Share Your Monkees Knowledge
Basically, a Monkees mailing list that is easily sidetracked. But fun, never the less.
Watch for flying breadsticks.

---
I don't own the Monkees. I can't say I've never seen any of them in person anymore, since I've now seen both Micky and Peter in concert. Rhino owns the Monkees and the Monkee logo. I do own my photos (i.e. the photos I took myself) and my art, though, so please ask if you want to use them in any way.
I'm not making any money from this. Rather, it's costing me money! So don't sue, 'cause a college student never has any cash.
-- Ellen (magnolia_simms17@REMOVEBEFORESENDINGyahoo.com )

Some of my Monkee pictures are from The Monkees Pad , which is a totally groovy site. Go there! Not *now*, when you've grooved around here a bit.

Etc.
AIM Screenname: Nezgirl9847
LMTA member # 126
Hugged by: Peter Tork (and I got proof, baby! Now if only I could get Mike to hug me...)

Contact me if you have any suggestions or requests at all, really. I'll try to get back to you in a timely fashion.
Submissions always welcome, via email or the button below.

Est. June 16, 2000
Name changed to "Good Clean Fun" September 2, 2000
(PS- If ya don't already know, Good Clean Fun is a song- a smartass title from Mike. Some producer told him the way to make hits was to write songs that were "Good clean fun," and in typical Mike fashion, the title has nothing to do with the song itself. See The Monkees Present.)